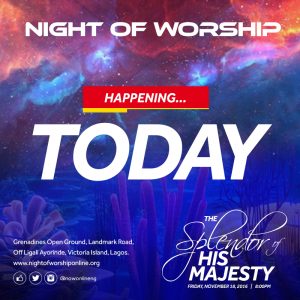 NIGHT OF WORSHIP 2016 – The Splendor of His Majesty – TRAVIS GREENE An American gospel musician
Our God is an awesome wonder. When we think of who He His and all the works of his hands, all we can do is stand in awe, speechless in His presence.
It is said that scientists discover hundreds of new species of plants, organisms, fish, and other underwater animals every day. God made the world and everything in it in six days, and in all the millions of years that the earth has existed, man has not exhausted discovery, and we never will. Incredible! And that is just the earth; it does not include other planets, and things in the expanse of the universe that we don't even know about yet.
Isn't this God worthy of adoration? That is why we gather every year for one night, not to ask for anything, but to simply worship Him. This year, on November 18th, we will gather to worship "the Splendour of His Majesty." God is set to visit us once again in His glory; make plans to attend, and invite someone.
It's going to be a Night of Worship!
Ministers
TRAVIS GREENE
Travis Greene is an American gospel musician who launched his music career with the release of The More in 2007. As a child, Travis was pronounced dead after falling four floors out of a window in Germany. God miraculously brought him back to life after his mother prayed relentlessly. At just five years old, Travis was given a passion for music by God after the sudden death of his father. In addition to playing several instruments, he also writes and produces multiple genres of music. By living in culturally diverse regions and experiencing various church denominations, Travis embraces his unique gift for adaptability.
NATHANIEL BASSEY
Nathaniel Bassey is a gospel music minister from Akwa Ibom State based in Lagos, Nigeria. He is a Recording Artiste, trumpet player, singer/song-writer and music producer. He also serves as Youth Pastor of The Oasis – the Youth church of The Redeemed Christian Church of God, The King's Court Parish, Victoria Island, Lagos.
Nathaniel believes that music is primarily a fundamental tool in the praise and worship of God and an avenue by which He (God) relates with His people. He expresses His deep love for God through his music.
SONNIE BADU
Award-winning, international gospel singer Sonnie Badu is an influential figure in African gospel music. One of the most consistently popular live acts in the world, Sonnie has been to almost every corner of the world. His trademark vocals are as recognizable as his custom made fashion accessories. His unique blend of intimate worship, high-quality visuals, and his energetic style of ushering congregations into the presence of God is affecting lives worldwide.
For Sonnie Badu, it is an honour and privilege to stand and lead God's children in the art of spiritual intimacy.
BEEJAY SAX
He is one of Nigeria's fastest growing Saxophonists. A professional Musician with strong Christian ethics who has worked hard over the years to carve a Niche for himself as far as gospel music is concerned, he thrills with a blend of traditional percussions and the sonorous tone of his saxophone to make Contemporary vibes.
A member of the RCCG Praise team and a devoted worker in Joshua Ville, God has wrought His works through this vessel and he has indeed been a blessing to many.
PITA
Peter Linus, better known by his stage name PITA, is a contemporary gospel artist based in Lagos, Nigeria. He has been surrounded by music his entire life. He started singing in the choir at a young age, moving on to creating an acapella group in his teens. The group toured many churches and university campuses across Lagos and Nigeria, gaining popularity and drawing national attention.
PITA grew up to become of Nigeria's most sought after talents, an accomplished singer, songwriter, composer, and producer.
VOICES IN ZION & THE APOSTLES
The choir in the RCCG City of David parish, the group is made up of people from different walks of life who have set themselves apart to serve the Lord with their talents. In the group are young professionals in the music and entertainment industry who have also committed themselves to bringing down the presence of the Most High God through praise and worship, and taking the church into God's presence.
To the glory of God, testimonies have followed their ministrations, and they are richly blessed as people's needs are met.
NIGHT OF WORSHIP 2016 – The Splendor of His Majesty – TRAVIS GREENE An American gospel musician