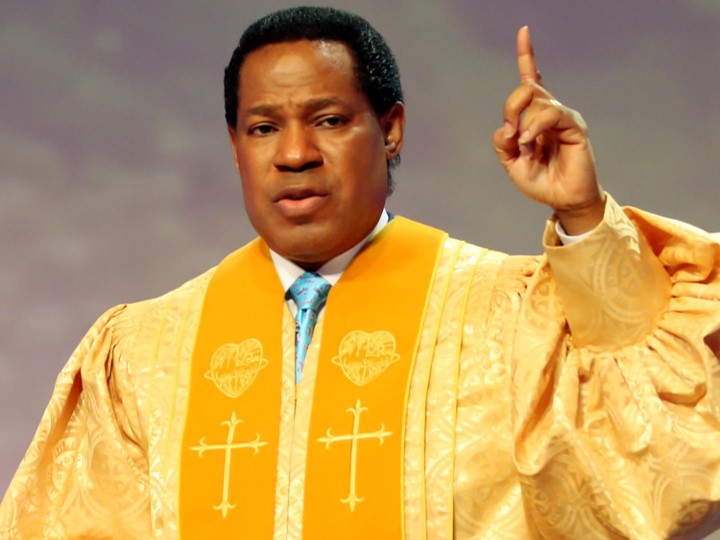 RHAPSODY OF REALITIES DAILY DEVOTIONAL
HE LOOKS BEYOND YOUR FAULTS .
Sunday, February 25th ,2018
Pastor Chris
For God so loved the world, that he gave his only begotten Son, that whosoever believeth in him should not perish, but have everlasting life (John 3:16).
There're people who have stopped going to church, because they did something wrong and thought God was mad at them and couldn't forgive them. I wish they knew the kind of God He is! He is love. He could never turn His back on you. He loves you so much that rather than punish you for your sins, He punished His Son, Jesus. That's what we read in our opening verse.
God may hate sin, but He loves the sinner. He distinguishes the sinner from his actions and loves him nonetheless. That's the reason He could look beyond man's faults and frailties and pay the ultimate price—the death of His Son—to save the world. The Bible says God was in Christ, reconciling the world—the world of sinners unto Himself—not imputing their trespasses unto them (2 Corinthians 5:19). He doesn't hold your sins against you.
Jesus already bore the punishment and consequences for all your sins. He was judged for your sake: "But he was wounded for our transgressions, he was bruised for our iniquities: the chastisement of our peace was upon him; and with his stripes we are healed" (Isaiah 53:5). This is part of the excitement and joy we celebrate as Christians; we're so grateful to God for all He's provided for us in Christ Jesus. He's so wonderful! Where would we have been without Him? What would our lives have been like?
Think about a God who isn't just loving, but is also all love! Even when we inadvertently do or say the wrong things, in His love, He made provision for our automatic cleansing. In 1 John 1:7, He says, _*"If we walk in the light as he is in the light, we have fellowship one with another and the blood of Jesus Christ his son cleanseth us from all sin."*_ He gave no conditions for the cleansing; so you never have to worry about unknown sins in your life.
Then the ninth verse says, "If we confess our sins, he is faithful and just to forgive us our sins, and to cleanse us from all unrighteousness."*_ Thus, having been born again, if you do something wrong, and confess it to the Father, He's loving enough, and can be trusted, to cleanse you, not only from that sin, but from all unrighteousness. How wonderful this is!
PRAYER
I see people the way God sees them. Rather than see their flaws and faults, I see the good in them—that beautiful part of them! Always, I rise above offences as I cover others with the umbrella of God's love flowing from the castle of my heart, in Jesus' Name. Amen.
FURTHER STUDY: 2 Corinthians 5:19-21 To wit, that God was in Christ, reconciling the world unto himself, not imputing their trespasses unto them; and hath committed unto us the word of reconciliation. 20 Now then we are ambassadors for Christ, as though God did beseech [you] by us: we pray [you] in Christ's stead, be ye reconciled to God. 21 For he hath made him [to be] sin for us, who knew no sin; that we might be made the righteousness of God in him.
Jeremiah 31:3 The LORD hath appeared of old unto me, [saying], Yea, I have loved thee with an everlasting love: therefore with lovingkindness have I drawn thee.
Romans 5:8-10 But God commendeth his love toward us, in that, while we were yet sinners, Christ died for us. 9 Much more then, being now justified by his blood, we shall be saved from wrath through him. 10 For if, when we were enemies, we were reconciled to God by the death of his Son, much more, being reconciled, we shall be saved by his life.
DAILY SCRIPTURE READING
1-Year Bible Reading Plan: Mark 7:1-23,
Leviticus 26-27
2-Year Bible Reading Plan: Acts 21:18-26,
Psalm 40-41