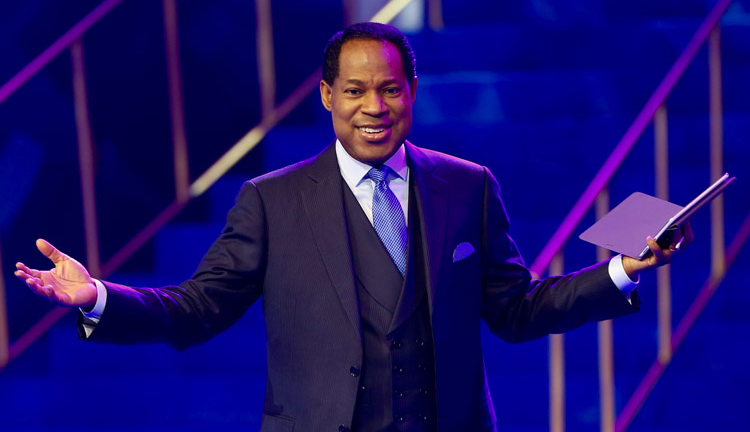 RHAPSODY OF REALITIES DAILY DEVOTIONAL
FOREVER VICTORIOUS IN HIM .
Friday, October 13th .
Pastor Chris
Now thanks be unto God, which always causeth us to triumph in Christ, and maketh manifest the savour of his knowledge by us in every place (2 Corinthians 2:14).
Psalm 91:3-7 is so comforting. It reveals God's commitment to protect and take care of you—even in the midst of all the troubles and crises in the world! It says, "Surely he shall deliver thee from the snare of the fowler, and from the noisome pestilence. He shall cover thee with his feathers, and under his wings shalt thou trust: his truth shall be thy shield and buckler. Thou shalt not be afraid for the terror by night; nor for the arrow that flieth by day; Nor for the pestilence that walketh in darkness; nor for the destruction that wasteth at noonday. A thousand shall fall at thy side, and ten thousand at thy right hand; but it shall not come nigh thee."
Do you see why you should never faint or be dismayed by the happenings around you? Trust the Lord and His Word. You're divinely protected from the wickedness and devilry in today's world: whether at night, or in the day, the Lord protects and takes care of you. You're in safety. Your faith response, therefore, should be, "Christ is in me, with me, and for me; therefore, I'm forever victorious!"
He said in Isaiah 43:2, "When thou passest through the waters, I will be with thee; and through the rivers, they shall not overflow thee: when thou walkest through the fire, thou shalt not be burned; neither shall the flame kindle upon thee." The environment in which you live is such that nothing can harm or destroy you. That environment is Christ.
To be in Christ is to be in God's secret place of rest and protection. Psalm 91:1-2 says, "He that dwelleth in the secret place of the most High shall abide under the shadow of the Almighty. I will say of the LORD, He is my refuge and my fortress: my God; in him will I trust."*_ Christ is your refuge! In Him, you have nothing to fear, because you're in safety and in prosperity. The world may be plagued with inflation and economic meltdowns, but your blessings and prosperity in Christ are guaranteed.
CONFESSION
I dwell in Christ, where I'm protected and live triumphantly every day. He's my Refuge and my Fortress, in whom I confidently trust! I have no fears, because in Him I live, and move and have my being. He's my strength and strong tower, and in Him I'm rooted and grounded, flourishing in every area of my life. Glory to God!
FURTHER STUDY:
Colossians 1:27 To whom God would make known what [is] the riches of the glory of this mystery among the Gentiles; which is Christ in you, the hope of glory:
1 John 4:4 Ye are of God, little children, and have overcome them: because greater is he that is in you, than he that is in the world.
1 Corinthians 15:57 But thanks [be] to God, which giveth us the victory through our Lord Jesus Christ.
DAILY SCRIPTURE READING
1-Year Bible Reading Plan: 1 Thessalonians 2:17-3:1-13,
Isaiah 57-58
2-Year Bible Reading Plan: John 5:28-32,
1 Kings 20