Rhapsody of Realities TeeVo
Wednesday, August 19
IT'S A HISTORIC FUTURE
("Fear Not"; God Has Seen Everything About Your Life)
👤 Pastor Chris
📖 TO THE BIBLE
Revelation 1:17 AMPC "When I saw Him, I fell at His feet as if dead. But He laid His right hand on me and said, Do not be afraid! I am the First and the Last…."
◀️ LET'S TALK
"Jeff, let's go already. It's past the time for evening service." "But my news app just warned that the Enderson Gang members were out and about hurting people. I don't think I will go because I'm scared!"
"Hey, man up! Jesus said for us to fear not!" Blake retorted. "He's given us His angels to take charge over us, so have no fears, and let's go!"
When you study the scriptures, you find that always, God tells us, "Fear not"; be it morning, noon or night; irrespective of what you hear or the symptoms you might be feeling, He doesn't want fear in your heart. That's because He knows all things; He knows the future and can see that nothing is set against you or could harm you. He's the eternal God and lives in eternity. He sees the end from the beginning. Therefore, even when you seem troubled about something and want Him to act right away, He's unruffled and never in a hurry, because He already saw that you prevailed.
Your future is history to Him. When you study the story of Abraham, you'd observe the Lord giving him the history of his future; He said to him, "…I have made you a father of many nations" (Genesis 17:5). At this time, Abraham had no child; but in the mind of God, it was already a settled fact that he had many children. His future was history to God. It's the same with you today. Have no fears, because He's seen everything and knows there's nothing in front of you that's capable of defeating or destroying you. Nothing! It makes no difference where you are or where you live in this world; there're no limitations on your path. All God wants is that you follow His Word.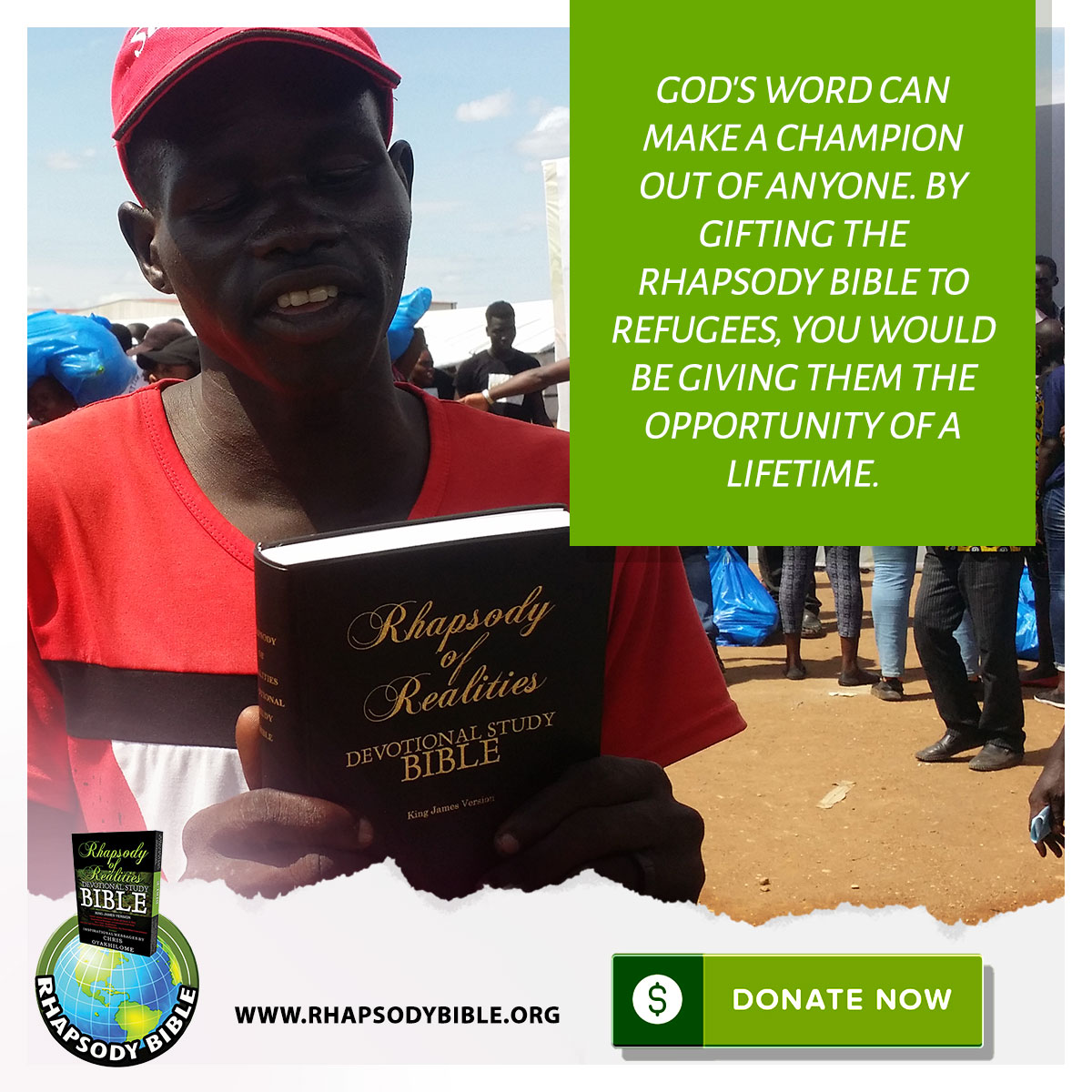 His Word guarantees your victory, prosperity and success. His Word is your weapon against all adversary and adversity. His Word is the sword of the Spirit. If you'd live by His Word, and keep it in your mouth, nothing can stop you.
REFUEL DAILY! ⛽🤗
Be On The Constant Intake Of The WORD With The ROR Mobile App 3.0!💪🏾
Click https://bit.ly/30XG30w Download Now From Your App Store and Google Play Store
REFILL TODAY, EXCEED THE LIMIT! 🚀
Download, Subscribe & Share
🎯 Go Deeper
Joshua 1:6-7; Romans 8:35-39; 1 John 4:4
🔊 Speak
I'm bold and very courageous! The Word of God is producing in me what it talks about and I rise above all the limiting systems of the world. I have an extraordinary capacity to contemplate, think, envision and see endless possibilities; and no situation or difficulty can deter me, because I've been set on a perpetual journey of advancement, uplifting, and promotion. Glory to God! Daily Bible Reading
When sponsor FREE copies of TeeVo, you partner with God in bringing hope and solution to many around the world. Act Now, at least One Copy
📚 Daily Bible Reading
ONE YEAR
1 Corinthians 4, Psalms 113-116
TWO YEAR
Luke 17:20-30, 1 Samuel 4
▶️ Act
Spend time praising God for giving you such a great future
Follow Pastor Chris Live for Daily Prayer Update On Prayer Sessions & The Prayer Schedule For The Year